Accommodation: Villa Vasojevka
Sutomore, Montenegro
category
category
category
category
Number of views: 178720
from
10€
per person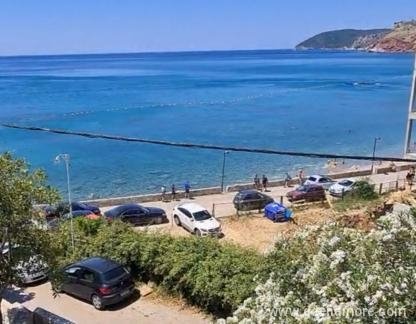 Apartment:
Room:
Studio:
Whole object
The villa is located in a beautiful area between Sutomore beach and only 5 minutes drive from the center of Bar. Near the building there are several beautiful small beaches, which will not leave you discouraged, and for those who like the crowds and good fun promenade in Sutomore is less than 500m. From the terrace of the apartment there is a beautiful view of the sea and the picturesque Sutomore coast, which will brighten up both the morning and evening hours of your stay.

We offer 5 larger extremely comfortable and beautifully equipped two-bedroom apartments of 62m2 + 8m2 terrace overlooking the sea. Accommodation is ideal for families or groups who like to enjoy great comfort at affordable prices. If you have decided to go on vacation by car, the villa has its own parking space.

Come enjoy a real vacation!
Legend:
All rooms, apparments
Some rooms, apartments
No
Capacity:

20

Seaview:
Water 24h:
Bathroom:
Kitchen:
Room service:
Safe box:
Large terrace:
Balcony:
Air conditioning:
TV:
Cable TV:
Internet:
Telephone in the room:
Parking:
Garage:
Pool:
Suitable for children:
Pets allowed
Suitable for disabled people:
Characteristics of accommodation
Legend:
All rooms, apparments
Some rooms, apartments
No
Capacity:

20

Seaview:
Water 24h:
Bathroom:
Kitchen:
Room service:
Safe box:
Large terrace:
Balcony:
Air conditioning:
TV:
Cable TV:
Internet:
Telephone in the room:
Parking:
Garage:
Pool:
Suitable for children:
Pets allowed
From the center:

100 meters

From the beach:

30 meters

From bus station:

meters

From airport:

meters
From ambulance:

meters

From restaurant:

100 meters

From sports fields:

meters
Prices and payment options
Payment options:
Cache:
By bank transfer:
Credit cards:
In Pre-season

10

In high-season

15

In post-season:

10

Out of season:

9
Updated: 08/28/2022
Powered by GdeNaMore.com